Yesterday, you saw the very first stroller roll-out! Today we'll take a look at the next year, which was 2004. (But it is called the 2005, because that is when the new strollers roll out.)Now the next year, some vendors did allow pictures. But only some. Read on
The desert sky stretches endlessly, dark and flat and punctuated only by the flickering greenish stars against the eerie purple sky. Now we see the lights, shimmering below, could it be? Are we there? Ah, no, it is only Primm. Driving on, the oasis-like lights appear once again. Could it be, are we there? Ah no, it is Jean.

Driving and driving and driving along, and then...the lights, but bigger, and more, and ARE we there? YES, we are! And it's about time, as HRH is getting a Royal headache from this endless drive....WE ARE HERE! WE have arrived, as Strollerqueen returns, to the legendary land of Las Vegas, where hundreds of strollers lie waiting, to allure, to tempt, to tantalize the senses....DUH DUH DUH DUH!!!!!!!



THE 2005 BIG STROLLER-ROLLOUT REVIEW IS HERE!!!!!!!!!!!!!!!


Ah, it is good to be back, to be greeted by leaders of lands both friendly and hostile, to see the faces old and new, to somewhere speak the language that we all well know in the Grand and Exalted Kingdom of Strollerland, but is seldom heard elsewhere we go...

First up--greeting the press. Which is harder than it sounds, given the Strollerprince and Princess finally retired at 3:40 AM!!!!! Only to awaken her Majesty 4 hours later, with the sounds of Elmo blaring...

So the Queen pours the coffee down her gullet. And nothing happens, except for a stomachache. The eyebags and circles remain, the tiredness hangs heavy, but too bad, because now, it is time to be....
"Dazed and Bedazzled in Las Vegas", the saga continues...
And the first thing that dazed me were the camera flashes popping, and the thing that bedazzled me were the COLORS!!!!!!!!! YES! Finally! The return of COLOR! Which is the first BIG trend of the show. Shining shimmering

Inglesina

Zippys, all in a row--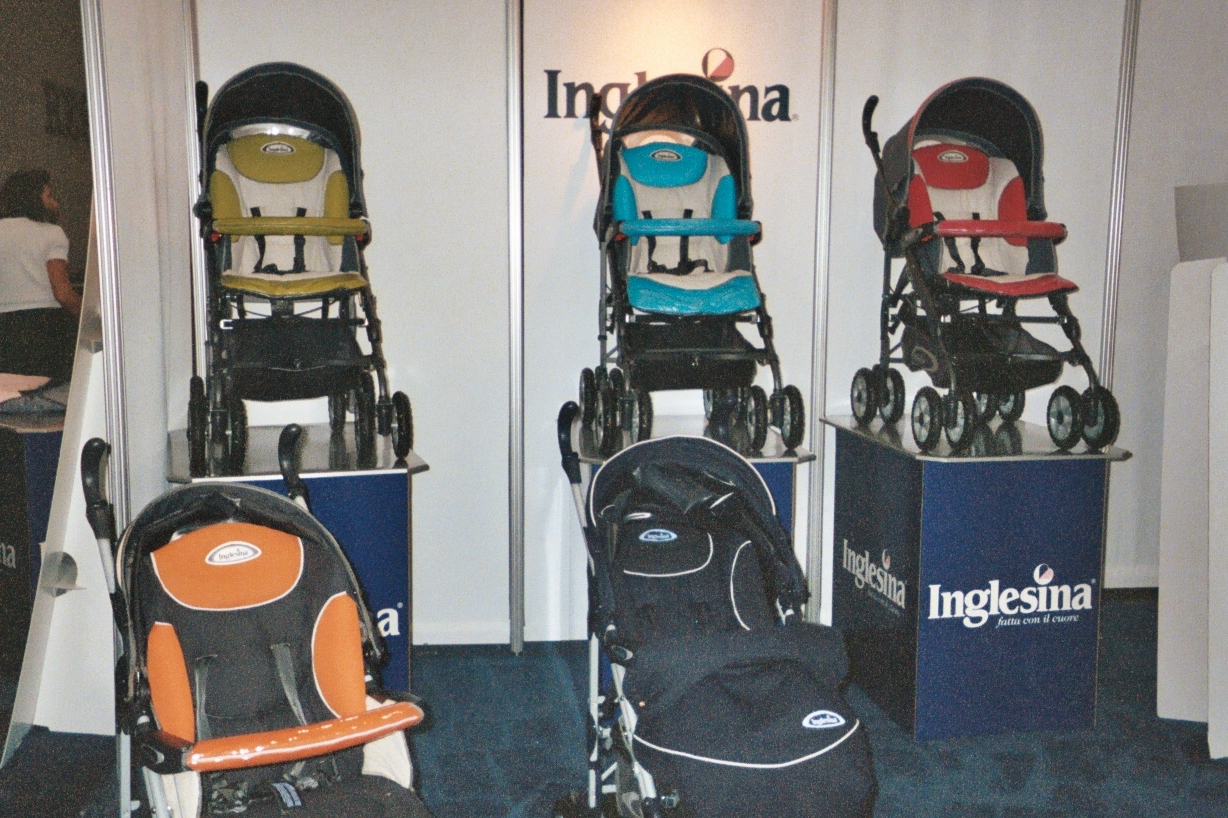 lime and aqua and ORANGE! Yes, Orange! You asked for it, you got it! And Espressos, yellow and sky blue and pink, yes PINK! The long-awaited Espresso Rosa has arrived! (Well, it will be in the stores in the next couple of weeks.)
But my new fave of the line is the Liberty, an ultra-light swivel wheel pram with reversible seat or bassinette. The aluminum chassis weighs just 8 pounds, thereby putting it in the same weight category as the Bugaboo. But best of all--it has a FOOTBOARD! Yes, I did say! A place for your tired toddler to stand! I don't know if this is manufacturer approved, but it does the job. And did I mention it is ORANGE? (In stores Nov. 1st.) OOOO, I can not WAIT to run it through the Strollerqueen Obstacle Course!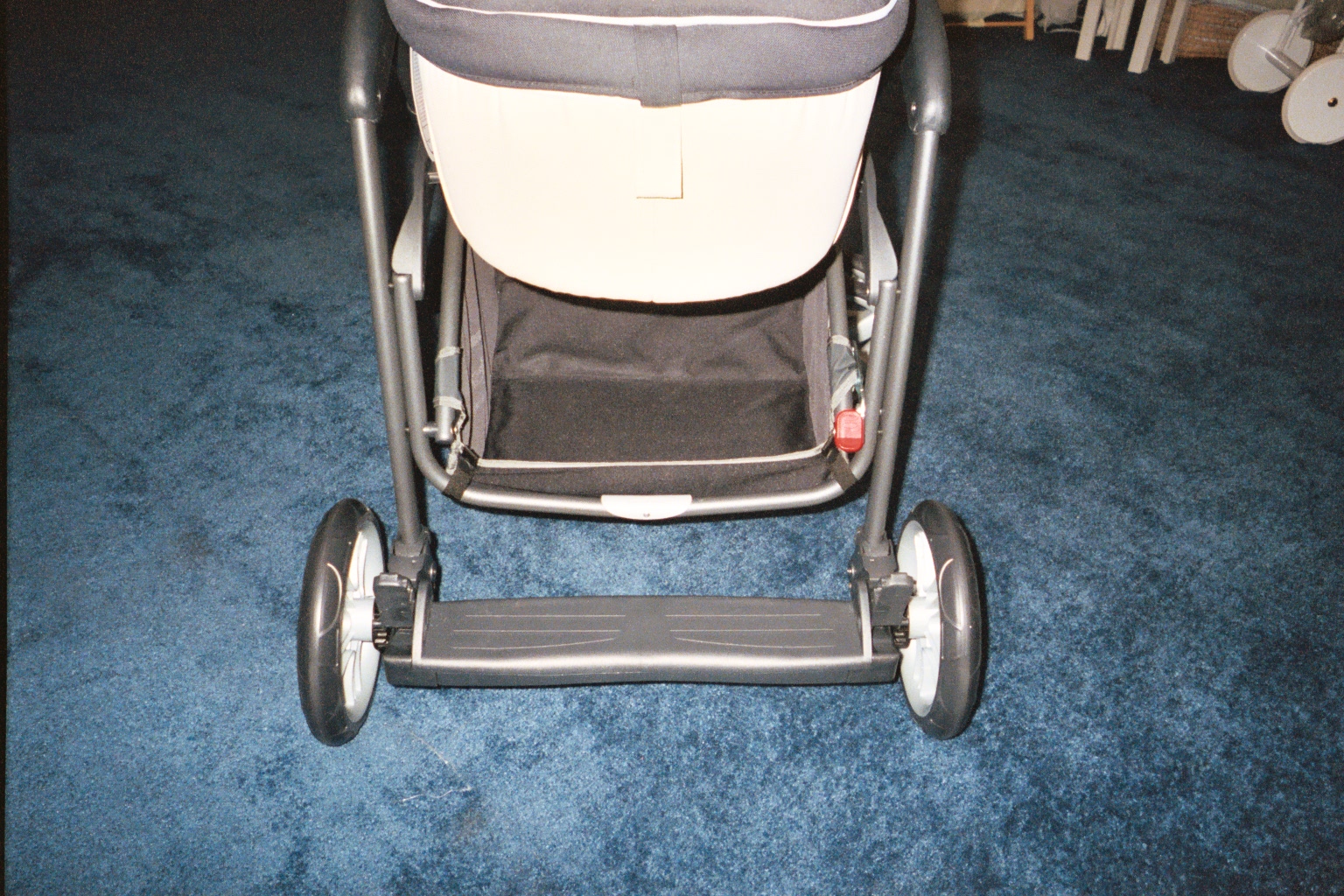 As the cameras flashed, I kicked the tires, folded and unfolded, oohed and aahed. The Kings of Inglesina sat at their thrones, (um, table and chairs), conducting business with VIP's, (retailers.) Luca and Stellario were kind and good-natured throughout it all, even sitting patiently for our questions after the Media left. Therefore, for the second year running, they are honored with the "Most Congenial of the Show" award.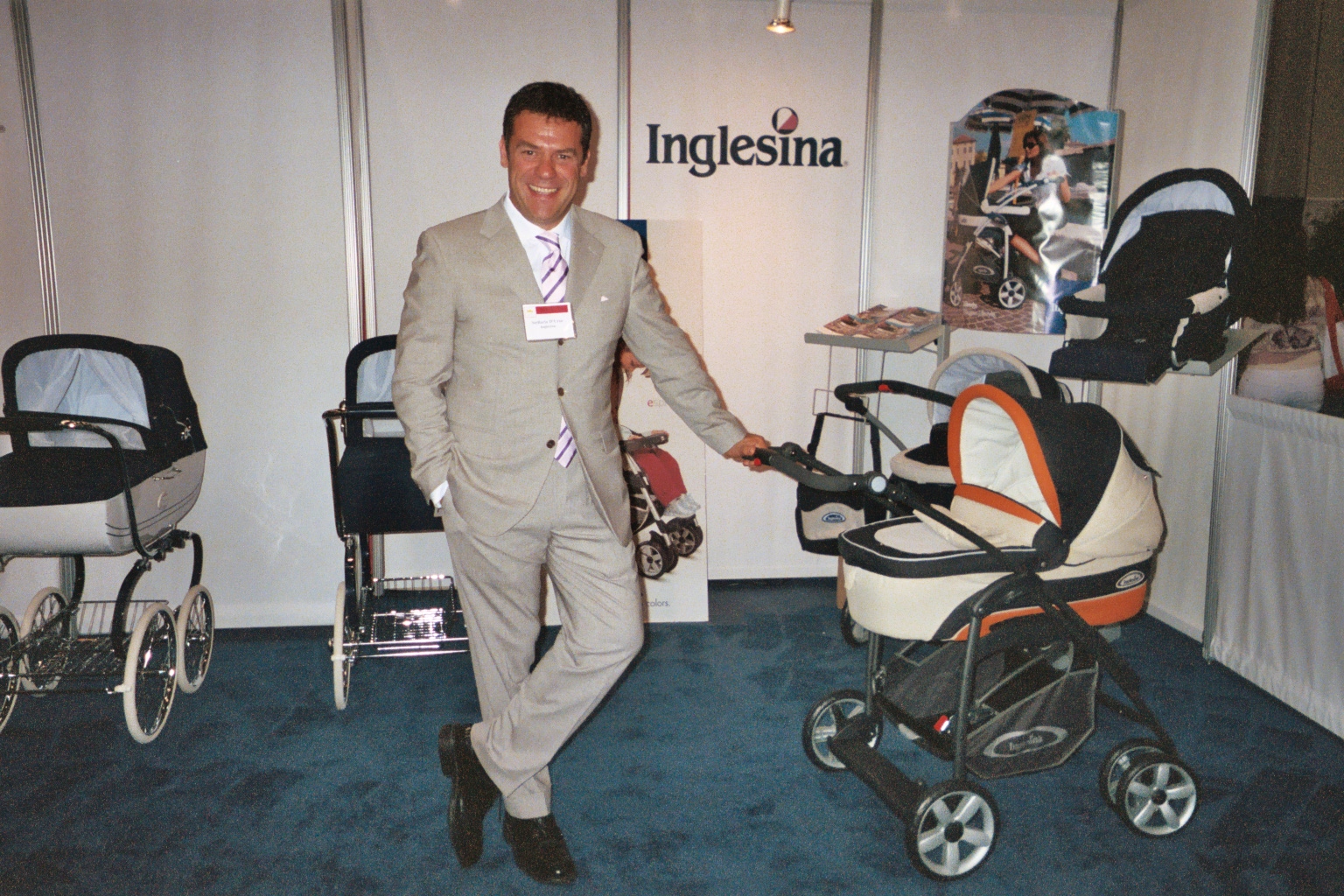 We talked about the new colors, and cup holders to be added to 2005 Zippys by the first of the year. Did we, of Strollerland, have any influence on these changes? The answer would be yes.
As the Inglesina Kings held court with Her Majesty, who should stroll by but our good friend, hurricane ravaged Lady

Marilyn

! For those who don't know, she reigns Supreme at: www.arunningstroller.com in Florida. What happy good fortune to see her! With her DH in tow, ("I'm the Sherpa, just here to carry her catalogues", he explained, we went off to explore the rest of this HUGE hall.
Off to

BOB

, where we see more evidence of the Show's SECOND Big Trend--3-wheelers that swivel. Yes, they have one now, called the "Revolution."
This was a prototype, so the final weight isn't in, but it should be around 22 pounds. It is loaded with pockets, and is car-seat compatible, (though why you want this in a jogging stroller, is beyond my comprehension.) Price-compatible with the MBUS, at a suggested retail of $349. Should be available First Quarter of the year--which turns out to be a VERY standard line at the Expo.
They have also come out with a "Stroller-Strides Fitness" stroller, compatible with the national exercise program. Has a cute little pocket that holds this exercise tuby thing and a routine from the program.
At

Dreamer Design

, the lovely and talented Teri shows us their swivel-wheel offering, the "Manhattan." This is a version similar to the "Revolution". It's $299, coming out next week, in red or navy. Weighs about 25 pounds, and like the BOB, is definitely bigger than the MBUS. You can still buy a fixed-wheel model as well, and switch out the axle to a smaller-swivel wheel model.
Now, Lady Marilyn is DYING to see the new

Britax

strollers. Since they cut loose Teutonia, they are now selling their own models in the US. Without that stern German influence, the mood is much more jovial all around. Of course their new US models are compatible with their infant seats. Otherwise, I'd say, why bother? They are indicative of the Show's THIRD Big Trend--off the shelf China models that are all cloned from the same factory. Honestly, there were times, like now, when HRH forgot WHOSE booth she was at, so many looked so similar. But in case you care, the models are: the entry-level Volo-like Espirit. Weighs 12 pounds, includes canopy, seat pad, and basket, $99.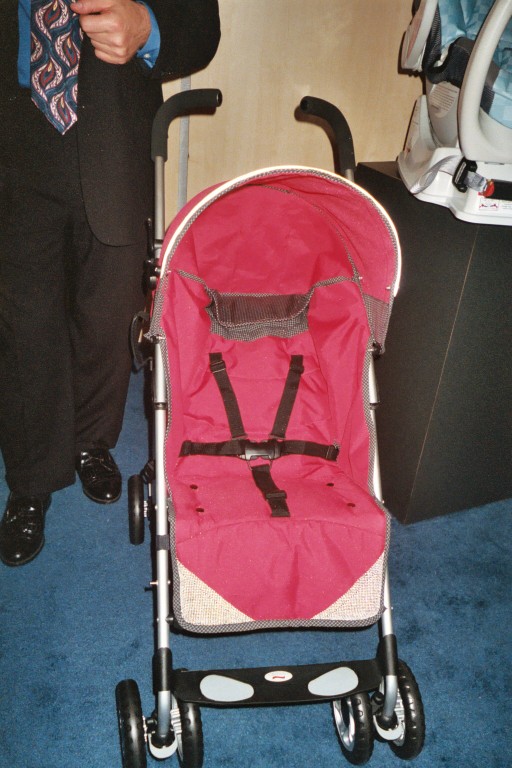 Mid-level umbrella-fold model is the Preview--more padded, 16 pounds, $129.
And their top of the line Forerunner, with a flat fold single handlebar, one hand recline, child tray, weighs 16 pounds.
The first two ship mid-December, the Forerunner will be available mid-January.
About now Marilyn answers her 25th phone call of the hour, (no doubt from all of you wanting updates), leaving me in the capable hands of MB. Marilyn, of course, has already ordered dozens, maybe hundreds, in every color, model and design.
If all strollers were like the

Mountain Buggy

, all our lives would be easier. Maybe not as diverse, nor colorful, but more stable, and certain. But this year, the Alan Kings, (one Alan rules from his Kingdom in Colorado, and one from the far, far away New Zealand), had a few surprising twists for us. Which leads us to the Show's FOURTH Big Trend--consumer-driven changes. YES, Loyal Subjects, your voices ARE heard.
And the changes here are many--height-adjustable handle, fully padded seats, very easy to access baskets--even in full recline, more little pockets and pouches, fatter, more treaded tires that are now quick release, even the swivel mechanism has changed. There is now a knob that clearly delineates when the tire is in swivel, or fixed mode.
The brakes are easier to engage and disengage when wearing sandals and the MBUD has one large single basket, due to popular demands. WHEW! This souped-up 2005 model will be available Dec-January, and despite all the changes, the price remains the same. What is different now is the weight. All the new features have caused each model to gain about three pounds. Colors available are red, black, navy silver and ORANGE.
And this new, all grown up MB has finally gotten her long awaited little sister, and you all know her name--"Breeze." She is ABSOLUTELY adorable, especially in orange. And though she is tiny, her seatback is actually as tall as her more mature sister, the MBUS. Her colors are the same as her larger siblings, and you can take her home with you right now.
Now a funny thing happened as HRH was measuring the seat back of the Breeze. Which, by the way, is about the same as that of the urban. (So yes, Susann, you CAN fit a 3-year-old in there.) So I am bending down measuring, and a lovely woman walks up and says, "Oh, you MUST be Strollerqueen!" LOL! She is Sheri, from "

Magic Beans

" in Boston. Her DH Eli whipped out a book and proudly showed off pictures of the CUTEST little store. (We had lunch the next day together, and talked about THE hottest new line, which I will tell you about later…)
The NZ King Alan promised to correct the inadequate packaging problem that has plagued their buggies of late. He said as near as they could determine, delivery handlers are much, much rougher on boxes in this country, than in others. The bent frames and axles poking out of the boxes seem to only occur in the US. He also said they were working on creating a self-locking clip, to hold the MB together when folded. He seemed genuinely befuddled when I asked him why they didn't take pictures with older children in the MB's, nor why they didn't make the extra-tall canopy standard. That is because in NZ, according to Alan, children stop riding in strollers at 2.5! EEKKKKKKKKK! Well, I guess if you are in a clean, sparsely populated rural area where no one steals children, and if they run off there is nowhere for them to run to which will hurt them...

If all the world's a Mountain Buggy, then you wouldn't have the Micralite, um,

Jeep

Rubicon. Well, you still might not have it, depending on if the retailers who saw the prototype will buy it. It reminded me of a poor man's Bugaboo. I liked it's triangular design, the small swivels in front, and big ones in back, and how flat it folded. Heck, I like anything that doesn't look like everything else.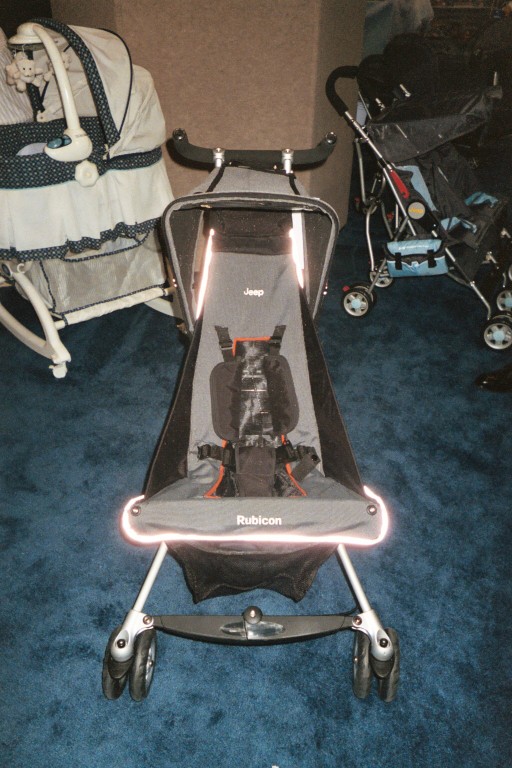 Speaking of which, Jeep/Kolcraft has discontinued their 4-wheel model, due to the wildly popular 3-wheel, air-tire version. The 2005 they were showing looked much more "upscale" than prior years, with a brown leather-like trim, and built in CD speakers.
Finally, as the day was drawing to a close, I just HAD to run by and see the latest and greatest of

Silver Cross

. And OMG! PINK! A PINK and black Micro!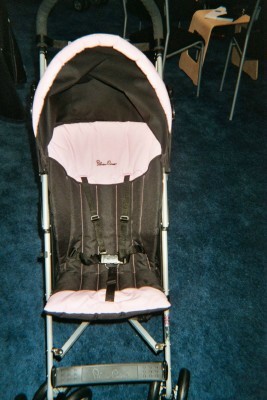 It is so so so cute, that it gets the "Cutest of Show" award. And funnily enough, they have introduced a twin version, called,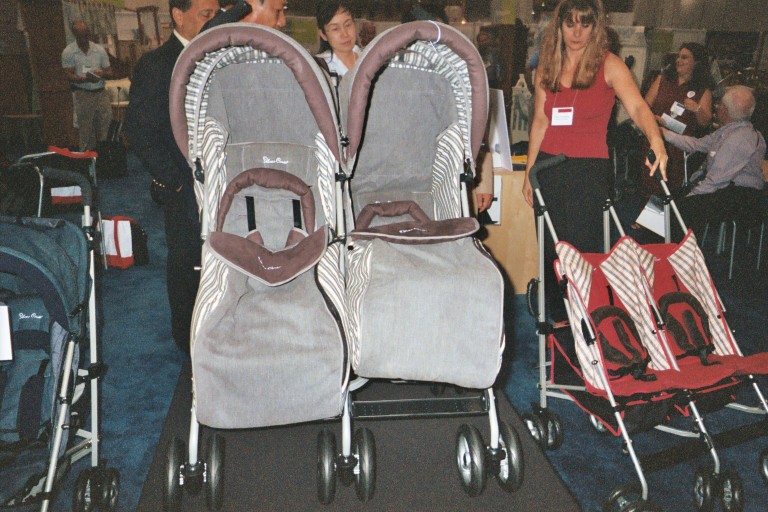 um, the "MICROTWIN!" lol! It has 6" wheels like the single, but more features. There are extendable leg rests, and the seat backs recline. Comes with boots, and the colors are awesome--a denim, cardinal(red with grey stripes on a cream background), and charcoal, (like the red, but with grey). Width is listed as 29", weight 23 lbs. But the max weight capacity per seat is listed as 36 pounds, which is something to consider if your child is older/heavier.
The ubiquitous swivel 3-wheeler is here as well, replacing the old fixed air tires on the Towne. Colors here are Navy, Brighton, and Cardinal. They are expected in stores--first quarter 2005.
Now the lights have been dimmed, and the security guard is urging HRH to leave for the day. I drag alone, exhausted by what I have seen, but excited by what is yet to come. I purposely take a sharp left turn, hoping to accidentally spy another line I haven't yet stumbled across. I do, and it's great, and it's getting the "Best Colors of the Show" award. I whip out my camera, and start snapping away. And that guard finds me again! This time, she tells me to leave NOW, and not in such a gentle way. Well, what's she gonna' do, throw me in the dungeon? Not so far-fetched as it seems! Because on Day 2, Strollerqueen very nearly gets thrown in Stroller Jail! Find out who dared threaten Her Majesty! And how she got out of it! And what line were those fab colors from? Who's the Bomb? Who did nothing? Who gets the "Best Surprise" of the show award? Find out tomorrow, in Day 2. Of "Dazed and Bedazzled, the 2005 Stroller Roll-out"!
Guess what Strollerland? It is almost time for "Duh duh duh!" "The 2014 Big Stroller Roll-Out!" Don't miss out on our special pre-sale deal! Stay tuned for details.