******Day 2*******The BIG 2005 Stroller-Rollout Review Continues!
I'm BAAAAAAAACKKKKKK…..And I am still dazed and bedazzled! So many strollers to see, so many CEO's to interview, so little time! Could this really be my LAST day? No, I MUST negotiate with DH for a Day 3. Hard to believe I covered all this ground last year in 2 days. Oh yeah, I didn't take pictures. In the layout of the Expo, there is the main hall, then there are suites off to the side. Some exhibitors, like Peg, show their line here. It is both a good thing, and a bad thing,as you shall see.
Today I am starting here, before I get sidetracked in the main hall, before I get too chatty with all of our lovely stroller friends.
So I am entering the hallowed grounds of one of the world's biggest and finest:

Peg Perego

. Wow, there he is, live and in person, sitting at his throne himself, with his queen by his side, the honorable Mr. Lucio Perego. He gives me the Royal wave, but he is busy. Must have an appointment to meet with this esteemed King. Since time is of the essence now, I opt to get the grand tour from one of the members of his court, Lady Kristi.
"Everything is new this year", she says enthusiastically. Only the two most popular fabric choices have carried over, the Black Sable and Metallica. But they have been updated, to have a more 2005 look. The Black Sable now has red trim, and all of the chassis' now have a black matte trim.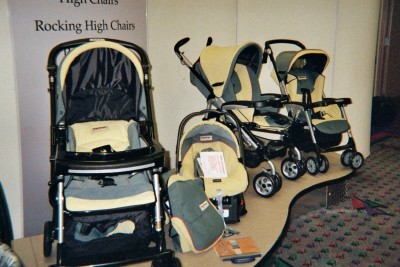 It is VERY sharp looking, and makes a world of difference appearance-wise.
Kind of like taking a favorite picture, and putting a brand new frame around it. Some of the new colors on the P3 seem very experimental for the US market. It will be interesting to see how they sell here. They include two different graffiti -splashed models, and the orange w/ purple trimmed "Hip Hop." Should be shipping starting November. I DO hope they sell well, or else we will all be vanquished, once again, to the land of Navy. Now, you would THINK I would award this line the best colors, but no, that is yet to come

…The P3 also has what they call a "one-hand fold."
Not as easy as the Zippy. But what happens is, when you pull up one trigger handle, the lock remains engaged. So theoretically, you can use one hand, by pulling up each side, one at a time.
New models include the re-debut of the "Dinamico", the key-operated, battery-powered, self-propelled wonder. Its based on the old Atlantico frame, which has been discontinued. It's basically marketed as a going-up-hills or grandparent's stroller. Comes in a nice, soft, tan suede-like fabric. This time around, they have worked out the kinks, and I didn't *almost* run down the son of the founder of the company. Will retail for around $649.
There are currently no plans to introduce the "prammette" into the US. But we will get the A3.
It's basically like a P3, with a single handle. The fabric and canopy reverse, so you can face your child. Will sell for $329. The Venezia, Aria, Aria Twin, Tender, Duette, and Triplette are continued.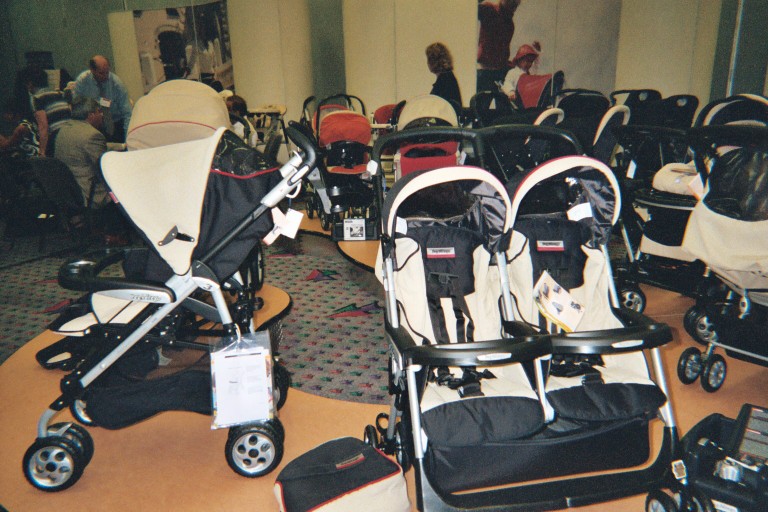 Oh, and YAY that Tijuana-like sparkly "Aria" logo on the side is gone; replaced by a much classier graphic.
And then there is the AT 4.
Peg is marketing it as a 4-wheel, rugged jogging stroller. In otherwards, the wheels don't turn. They are big, beefy air tires--9.5". It's funny, while everyone else is knocking themselves out to introduce swivels to their line, Peg went backwards and trotted out the fixed again. Just not so sure how it will do here, since it is heavy and hard to push….Anyway, it has the reversible fabric like the A3, a canopy with a pocket and net insert, a fanny pack on the handle, a basket that can be raised or lowered for accessibility, takes their car seat, shocks with 3 settings--ala BebeConfort. Will retail for $579.
Now speaking of

BebeConfort

, their absence from the Expo was partially why I nearly got thrown in Stroller Jail. Remember, I told you I was in the section of "private suites" off the main hall. Here I spy the "Dorel Juvenile Group, and become very excited. After all, they were showing off THE most gorgeous BebeConforts (and Quinnys) at the 2004 Expo. They were a sensation last year, with a classy display, and a top-notch team from France and the US demonstrating all the models.
But THIS year…ugh…What happened? Where were they? I enter their room, and am immediately asked, "Who are you?" "Strollerqueen", I reply. "From where?" They demand. "Um, er, the Kingdom of Strollerland?" Now this was not a response they found funny. Suddenly, they all begin to surround me. No, I am not kidding. They form a circle. And then a toothless guy points at me, and says, "She's the competition, a SPY!" "That's right," I grin. "Stroller Spy, here to commit Stroller Espionage. " Well, now they are REALLY not laughing. "You're here to knock off our designs!" yells the toothless guy, shaking his finger at me. "And just WHAT is here I want to knock off?" I ask, peering over their shoulders. "Safety First? Heck, you're ALREADY a knock-off!!" There were NO BebeConforts here, no Quinnys, just , um, junk.
But now, they began moving in on me, getting too close for comfort. "What are you guys gonna' do now, throw me in STROLLER jail?" I laugh. They move in closer. Think fast, think fast. "Um, Bruce! Where is BRUCE?" I say loudly. They stop moving in. "Bruce? You know Bruce?" They begin to back off. "Yes, I know Bruce. He's your boss! And he is nice! We used to email back and forth! So WHERE is he?" I demand. "He's not here", someone says, shrugging their shoulders.
And just like that, the circle dissipates, and they all go back to whatever it was they were doing, before the "spy" tried to sneak into their enclave.
I have nothing more to say about this, except that before I left, I noticed, in the corner of the room, the Schwinn/Instep line. Yet another one gobbled up by this ever-expanding international conglomerate, that is seriously paranoid.
Scoundrels. Hmmph! Now, I see another room that says "

Chicco

". I am instantly relieved. Even more so when I see a friend from last year, their Honorable CEO Greg. After we exchange greetings, I notice something…could it be??? No, is it possible? HALLELUJAH! IT IS! And so I award the "Best Surprise of the Show" award--the RETURN of the 2002!!!!!! Only now, it is called the Ct 1.
With a very cool cup holder, snack tray, boot, and DOUBLE FOOTSTEPS! Ala the P3!!! YAY! (They are not officially sanctioning an older child to stand on the back, by the way.) It still has the twisty handles, which makes it extremely easy to push one-handed. But now they also fold under, so it folds more compactly. The wheels have changed, but it still has the adjustable suspension . The one I was ogling was the same one I have wanted for a long time, that I have seen on the UK websites--the "Oxford". It is a sharp, navy pinstripe fabric, very classic. Unfortunately, as with almost everything I saw, the added features caused it to gain weight, up to 23 pounds now.
They have a double in the same fabric, the "Velocita." Unbelievably wide seats--each measured 13" across! Wow! The more stripped down version is called the "Citta" twin. It's a little bit on the wide side, though,. I measured it as 31.5", in the widest part.
The whole China line was on display, in fact. The Caddy/Capri, and London/Tuscany. The full size, single handlebar version is the "Tech 6." And a three-wheeler called the "Tech 3."
The biggest buzz of their booth was created by their infant car seats, the Roma. They are designed to be amazingly easy to install--with the slogan, "No more knees", lol! They pop right into the Ct 1, and the Cortina. (Think updated Ponee.) It has a single handle, parent and child snack trays, big basket.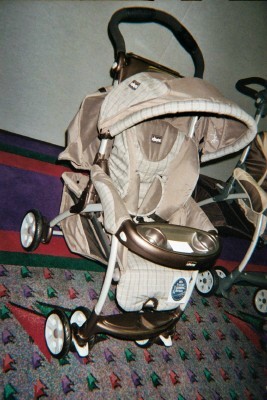 The next suite down the line was

Combi.

Pretty quiet in there, and again, no familiar faces from last year. I was also met by a frozen stare when I identified myself as "Strollerqueen." (my oh my, what a difference a few years makes! They were the ones who helped to create me, after all. Which, if you don't know the story, is too long to explain for now.) Well, it was partially my fault. I couldn't really wear an ID badge, (although I do have "Strollerqueen" jewelry, which my best friend has made for me.) Because who I am, and what I do, does not fit into a neat category. Even when I tell them I am a "Stroller Advocate for Moms", or "A liaison between Moms and manufacturers," it doesn't always register.
Nevertheless, the Lady of their Court was pleasant enough, as she walked me through the line. The big news here is the "I-Thru", the first pram stroller Combi's had in a while. The seat reclines flat, and comes with a boot, so it mimics a bassinette. You can flip it around to face towards you, or away from you. It comes in Olive, Citrus, and Sand. Weighs 16 pounds, and will sell for $249.
The 17-pound Savona is still available, and will now accept all brands of infant car seats. It comes in Ocean, Crimson, and Silver Pearl.
The Soho now comes in three versions--the Soho, Soho Sport, and Soho Deluxe. This seems to be another Show Trend, that is, taking one stroller model, and making three versions of it. A Budget, middle of the road, then top of the line.
Speaking of Top of the Line, Combi is making a $400 travel system, called the DK-5. (Maybe
they are trying to compete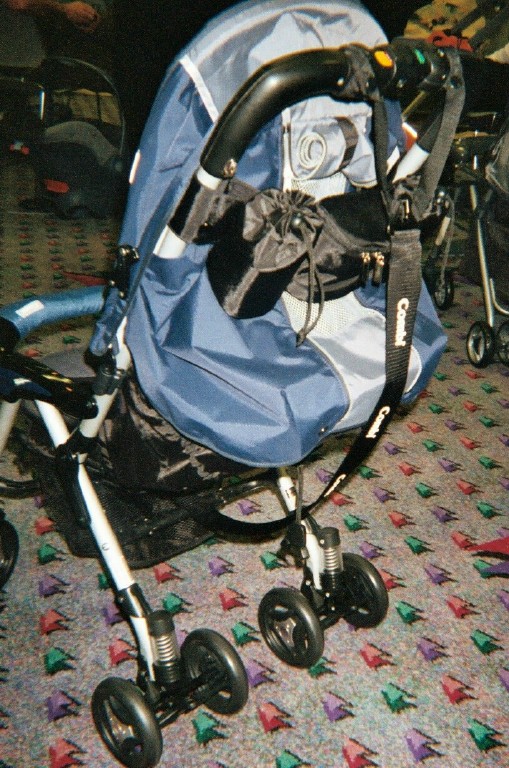 with Aprica?) It fully reclines, and comes with a car seat.
Way down the other end is the "Strolee" line. Combi purchased the name from the long-defunct company, and is selling bare-bones, steel-framed $29 models in that line. They are also selling the "Streak", a car seat frame designed to compete with the Snap N Go. One cool thing about this one, is that it has the famous Combi umbrella fold, and a carry strap. It is supposed to accept most brands of car seats.
While I am on the topic of those who don't get Strollerqueen, I might as well give the "Who are you, and what the heck are you taking about?" award for the second year in a row to

BebeCar

.
Such a beautiful, top quality stroller. But expensive, and on the heavy side. And so poorly marketed that it isn't even distributed in the US. Take for example their new X-Fold,
which was a prototype at last year's Expo. It replaces their popular Unibig. But it weighs more than the P3, and costs more money, so unless Americans have a really good reason for shipping this from Canada for maybe $450, why should they bother? Same question on their Racer.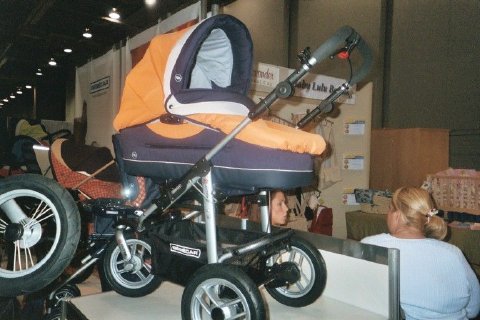 It is FABULOUS, but there are a lot of swivel 3-wheelers now to compete with, so why should people pay more for this? If you could ever see one, you WOULD bother, and you WOULD pay more. But unless you are in Canada, you are largely out of luck. (Although, my sources tell me that Albee's in NYC is ready to place a large order--YAY~!)
Now I am trying to explain all this, to French Canadians. It's not that they are rude, not at all. (In fact at one point, when we were painfully trying to communicate, the infamous chocolate cart drove by. Now I don't know if this is a common convention staple, but it sure is at this one. Periodically, a woman driving a little car loaded with CHOCOLATES whips by. Sometimes it's M & M's and Hershy bars. Other times it's chocolate chip cookies and brownies. Now I am eyeing her, longingly, as there is little time for lunch when you are planning a review like this. I guess hunger, and chocolate, is a universal language. Because one of the Bebecar Kings gallantly chased down the cart, and triumphantly presented me with a Butterfingers.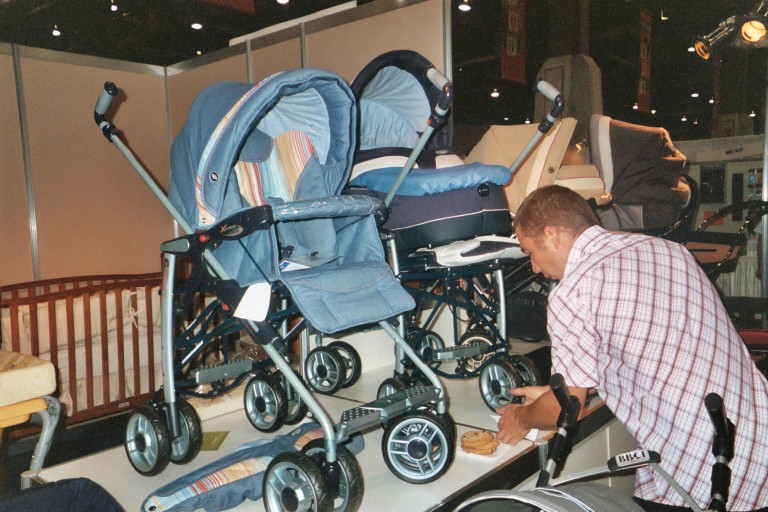 But their English isn't great, and my French is no-existent, so they are looking at me with the same befuddled looks they gave me last year. Until finally I said, "You guys STILL have no idea what I am talking about, do you? ""No", they said, shaking their head. Then they brought in another guy who spoke a little more English, and once again, I launched into this primer about how to sell strollers in the US. He is listening intently, and then after my big speech, he says, "And just HOW much is this going to cost me?" LOL, I give up. Most of the models remained the same, but they are offering many new colors, an astonishing array of like 32 choices.
Ditto the

Bertini

, although this line is much smaller, in terms of models and colors. I didn't see any changes here from last year. And as I always say, four-wheel drive prams are an acquired taste.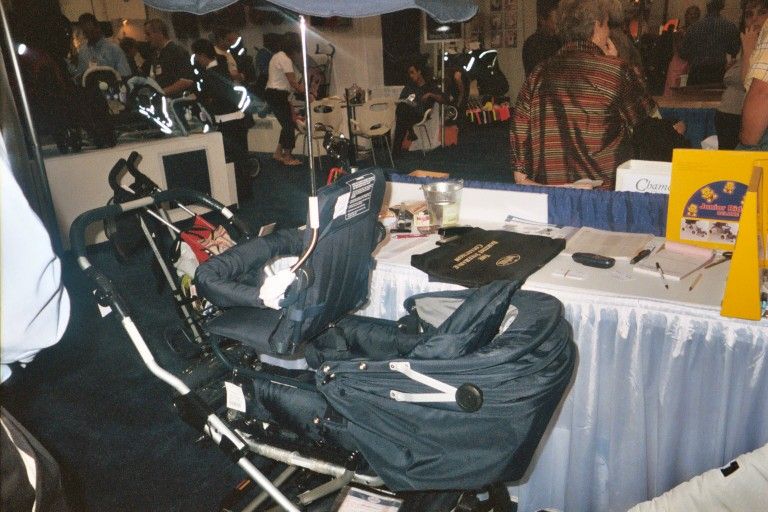 Another line that didn't change much is the Kool Stride. But I had the good fortune of bumping into Gene Smith, the company's founder. What a great guy! Still one of the nicest in the business. And I still think it's a great jogger, especially since it has 20" wheels, and the option of the add-on toddler seat--the UGot2.
I also hook up with Marilyn again. Her "Sherpa" DH is constantly on the phone. He is getting hurricane updates, and he is worried. He tells her they will have to leave the Expo a day early, or they may not be able to fly in for days. Of course, Lady Marilyn is having a blast, and is not happy to cut her trip.
So it's off to

Zooper

alone. Esteemed King Phil Bronson graciously gives me the Grand Tour, once again. The line is not so dramatically changed as last year. But it has been split into three categories, budget, mid-range, and deluxe. My words, not his. Just trying to get the concept across in 25 words or less. Soft, suede-like fabrics and accessories are part of the deluxe line. For example, a very nice carrycot is now included in the Zydeco.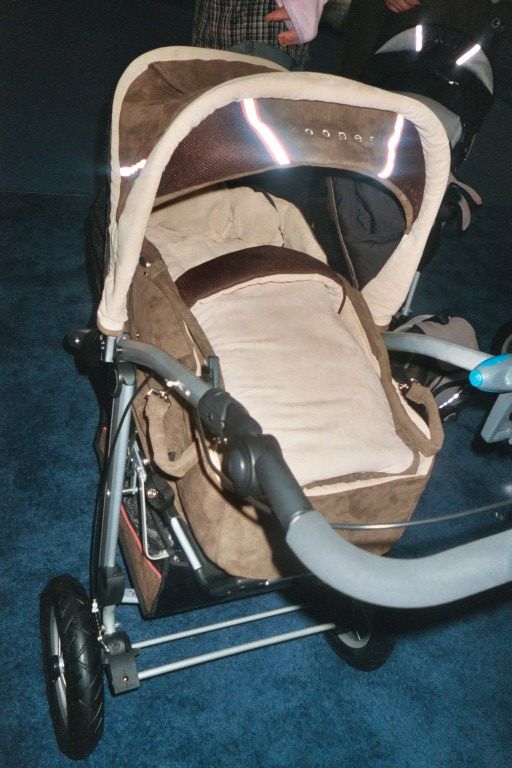 It has a cool wheel lock on the handle, like my beloved BebeConfort. As Phil explains, if you're going down a hill, or a curb, you should not have your wheel in a swivel position. You should be able to frequently lock it to correct stability. It really is a nice safety feature.
The Swing is also part of the deluxe line now. Comes in a tan suede, and black denim, and still includes all of the accessories.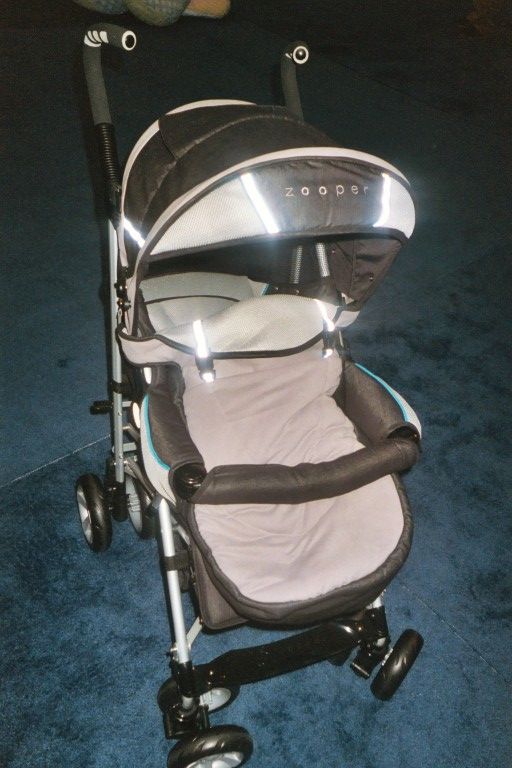 Which, Phil says, is part of their niche.
The mid-range line includes the reversible seat 3-wheeler Boogie, the double Tango, and the single handlebar Waltz. The folding mechanism has been improved on the two latter models. Colors are red, blue, beige, and silver/black.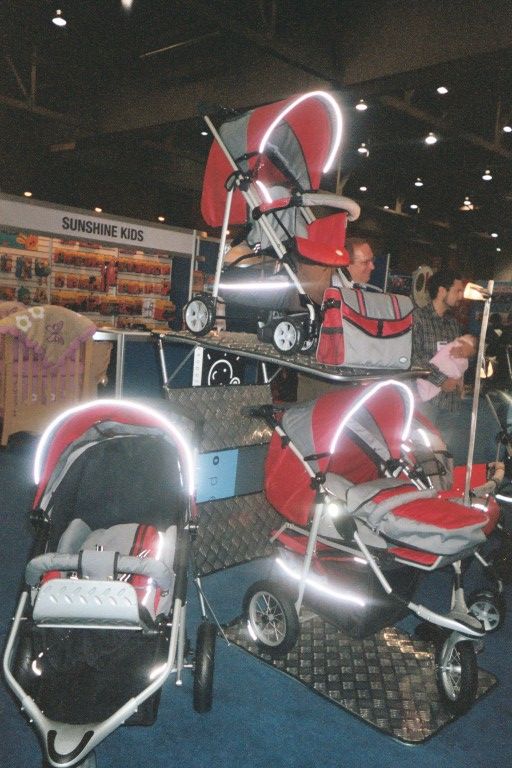 On the budget end is the three-wheeler Jazz. And their latest model,--the Volo-like Salsa.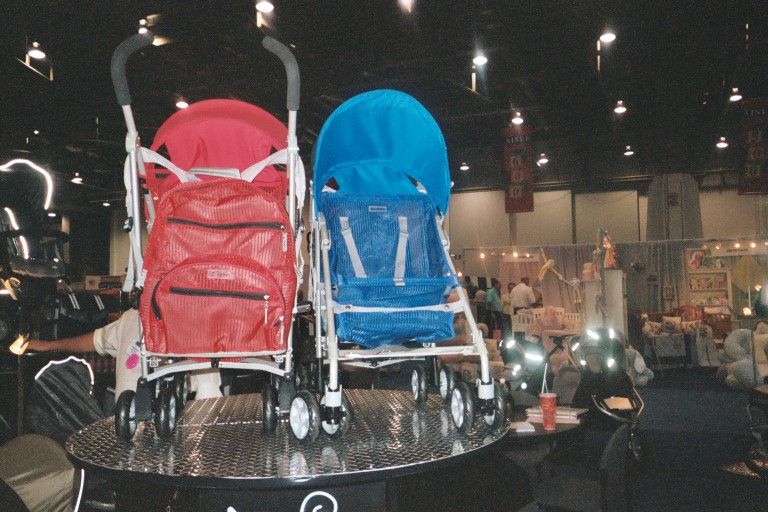 It replaces the discontinued Rhumba.. It comes with the canopy, basket, and matching see-through backpack. Colors are orange, blue, and turquoise. Matches the retail price of the Volo, Silver Cross Micro, Britax Espirit, at $99.
The rest of the prices are staying the same. Target shipping date is January. One caveat here--last year's line changed dramatically from what was on display at the Expo, and if you remember, the shipping date was way late. So take all of this as a "Maybe."
Now, during my travels of this Grand Hall, I did run into several stroller accessories. Including sunshades, rain covers, foot muffs, and my favorite stroller bag, the Skip Hop. But the newest, and very best accessory I discovered was the

Lillebay

, upon which I hereby bestow my "Best Stroller Accessory of the Show" award. Lovely Lady Lisbeth Lehan (love alliteration), was kind enough to demonstrate it in all its forms and functions. Nothing beats it for quality and versatility. It is a soft carrycot, travel blanket, cosy toes, stroller liner, car seat blanket, all in one. I particularly liked the swaddling feature for a newborn. It is soft and warm and light as a feather. It's a winner for sure! Retails for $79.95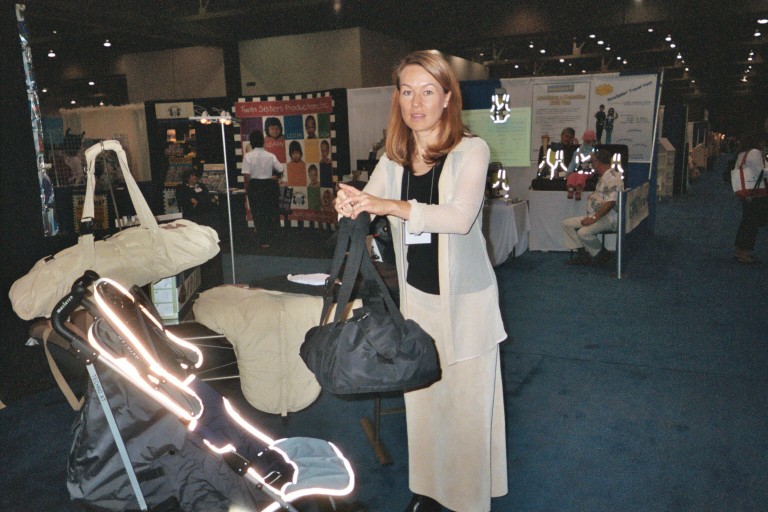 Finishing Day 2. With someone who DOES know me--

Bumbleride

. It's a brand new line, started by a husband and wife team. When they had a baby and couldn't find any stroller to their liking, they decided to create their own.. And they were kind enough to actually come to my home and show it to me! But since their visit to Strollerland, they have revamped the 3-wheeler Rocket to include a swivel front wheel,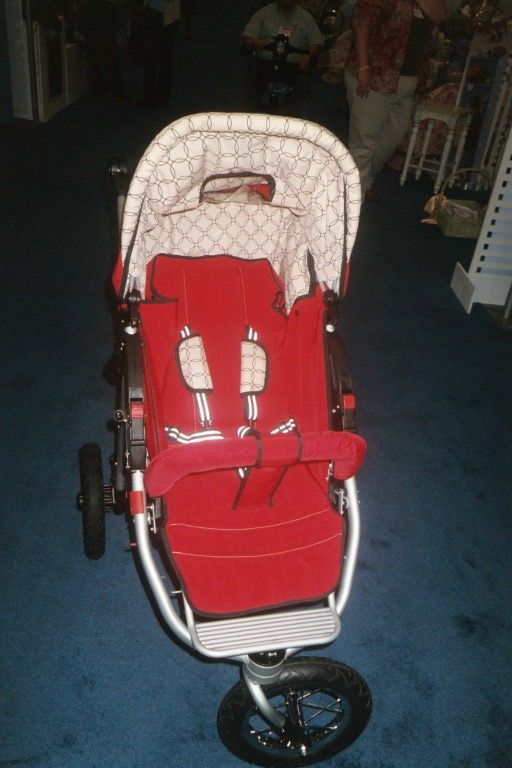 and gussied it up with their signature fabric--Ruby. It's red with a cream canopy lining and black swirls inside-- cute, cute , cute! Our buddy Brian, from Traveling Tikes, was particularly found of this model. It also comes in a beautiful "sunrise" fabric, orange, and sky blue and white.
The "Queen Bee" pram comes in Ruby,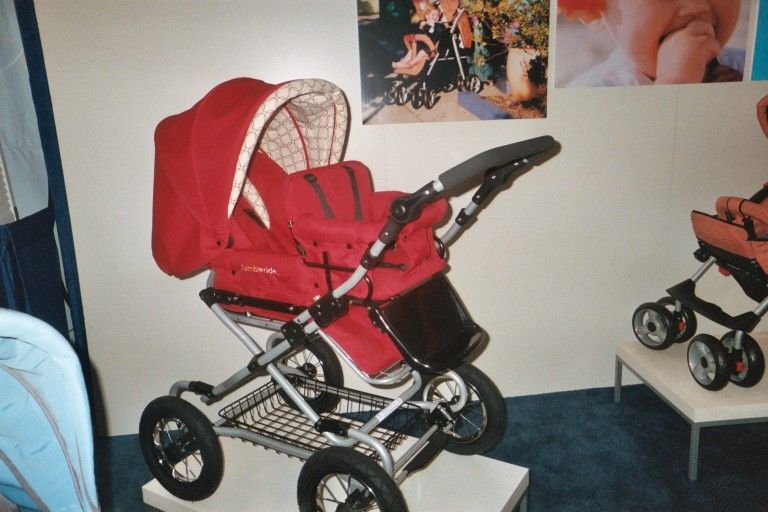 and also Sterling. Then there is the Pumpkin Flyer, (which also comes in pacific blue), the one with the reversible handle.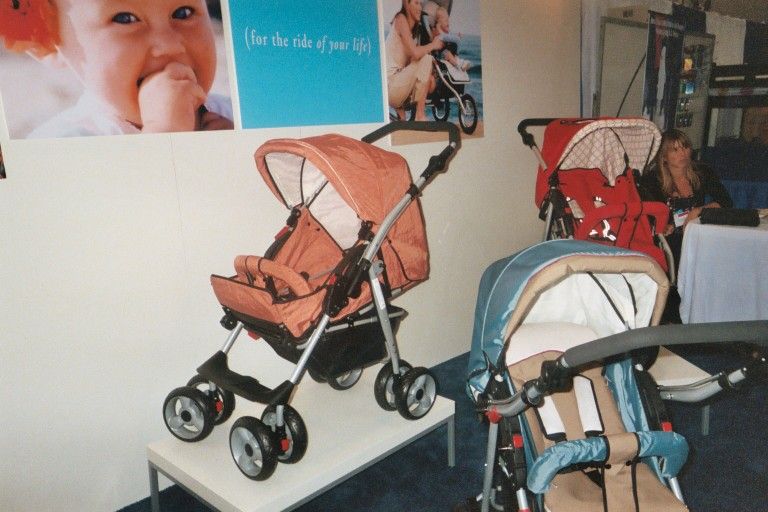 I just wish they would give you the option of swiveling the front wheels, and locking the back, when you have the baby facing you. Retail on the models ranges from $279 to $329.