Can you believe this??? This was the first time I ever attended the "BIG Stroller Roll-Out", as I affectionately dubbed it. And get this--no pictures were allowed! That's right, at that time, NO ONE was allowed to take any pictures, under penalty of death! Well, not really. But if you were caught doing it, you would have been unceremoniously tossed from the show. It was all in attempt to avoid "Stroller Espionage", in which someone would photograph a new stroller, take the pictures to China, and knock it off. So read on...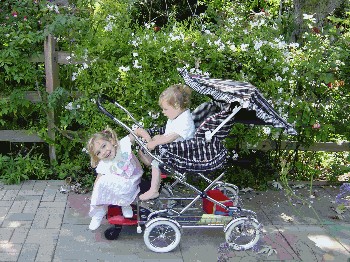 2004 Stroller Previews

From the ABC Kids Expo in Las Vegas, September 21st and 22nd, 2003

Adventures in Strollerland, Dazed and Bedazzled in Las Vegas, Chapter 13, Part 1, 9/24/2003
Can you imagine, can you dream....

Of a mythical Kingdom full of glitter and lights, where hundreds of futuristic prams, pushchairs and buggies are clustered in a great huge hall, guarded and tended by white knights and ladies who have actually birthed those which are the objects of our greatest fantasies and deepest desires....

It's a land that exists, yet now only in my memory. For just as we speak, the final remains are being bagged and packed and swept away...

But it was here I ventured, had the supreme and esteemed honor to visit, at the behest of the Most Dignified, Lovely, Gracious and Elegant, Denise and Alan Fields.

So come along with me, to this magical place, come along with me, as we journey to.....

DUH DUH DUH DUH DUH DUH DUH!!!!!!!

THE 2004 STROLLER ROLL-OUT!!!!!! "ADVENTURES IN STROLLERLAND CONTINUES IN LAS VEGAS"!!!!!! Chapter 13, Part One. 'The Italian Big 3."

The first thing as you enter the door, is this long tall escalator, that climbs to the heavens. Stroller heaven, that is. So tall it was dizzying. But climb it I must, to enter this wondrous Land of the 2004's.

MY GOSH it is BIG! And Grand! And AMAZING! And AWESOME!

Greeting me at the door, I find the most Elegant and Gracious and Lovely and Dignified Alan and Denise Fields, who are to be my guides through this huge and confusing place, the Land of the 2004's.

First, we must pay homage to the High King of this Land, a land in which many kings preside. But this particular ruler has established himself as truly a leader amongst all stroller kingdoms, a man who has touched many lives with his Midas touch, the CEO of Peg Perego himself, Mr. Lucio Perego.

We enter the inner sanctum, AKA the Peg "Suite. " Yes, a $400-million dollar a year company merits a suite. With food and drinks and family and fun. And LOADS of lovely strollers. And REAL LIVE Peregos! Yes, they are STILL a family business, and many members were there to help.

They are lovely. And charming. And wearing beautifully tailored, ahem, Italian suits. And SMART. No figureheads here. They can tell you in detail to the nth degree every tiny change made to the 2004 line. And there are many. Much that you asked for. Bigger baskets. Better canopies. More padding, more reclines. New colors. The reintroduction of the chrome frame pram. New Duette and Triplette. Exact miniatures for dolls. And in response to your questions, Mr. Perego promised to continue to add rear footboards wherever possible. Speaking of which....

Duh duh duh duh duh duh dhu!!!!!!!! The Strollerqueen award for the *Show-stopper of all show stoppers* --the DINAMICO! The first of it's kind, leave it to Peg. A SELF-PROPELLED ATALNTICO! Yes, we've heard the jokes that the only thing easier to push than a Mountain Buggy would be a stroller that pushes itself. Well, THIS one actually does. And this baby is fast fast. Maybe too fast. Maybe I should have learned to stop it. Maybe I should have pointed it away from the President of the company.

Here is this elegant, charming man, in this exquisitely hand-tailored suit, standing against the wall, hands clasped behind him, surveying the crowd.

Here comes me, trying to control this wondrous creation that is out of control. As it is careening towards him.

Fortunately, he is kind and gracious and jumps out of the way just in the nick of time.

Anyone that says Peg is dead is dead wrong. Not when they can produce a $700 stroller that pushes itself. It's basically an Atlantico with an engine, and a large rear footboard for an older child to ride on.

Amy and Pamela, who will be the first on your block to buy one???

Let me say that I was ASTOUNDED by the time spent by all these great stroller leaders themselves, who were gracious enough to take the time to answer each and every one of your questions. Yes, I took them with me as promised, and yes I asked. Some of the answers are jumbled around in my head a bit, but yes, I asked. And most were answered.

Can I say that in my next life I want to be Italian? Not only do they
do everything right. They enjoy life. Which leads me to the winner of the Strollerqueen award #2. *For the most engaging, delightful, and congenial leader of this land*, Mr. Luca Tomasi, President of Inglesina.

He and his partner, Stellario D' Urso, are sincerely interested in the desires of the American market, which happen to be different from UK and Europe. Take cupholders, for example. They were genuinely perplexed, and scratched their heads as they pondered this question. "But why would you need it?" They asked. "And which one is more important, the cupholder for the baby, or for the parent?"

Due to these desires, they have produced a MAJOR improvement, which will thrill Zippy fans--the canopy now reaches down to the napper bar!
They have also added mesh inserts and more padding. In response to another question, they will consider adding more reflective material to other models, in addition to the Magnum.

But BEST of all, for all of you who have asked--DUH DUH DUH DUH DUH DUH DUH!!!!!!!!! Strollerqueen award #3, *Most needed product*. A LIGHTWEIGHT UMBRELLA SBS! NARROW ENOUGH TO FIT THROUGH DOORS, YET SEAT WIDE ENOUGH FOR BIG KIDS! Weighs 22 pounds, is 29 " wide. Not fully reclining, however, therefore not suitable for newborns. It is basically two Swifts stuck together, and will be priced quite reasonably.

They also plan to introduce a new "Surprise" stroller, TBA in January. Loved these guys!

On to Strollerqueen award #4--*Biggest disappointment.* Well, for me, anyway. Chicco has discontinued my beloved 2002, WAAAAAHHHHH! All of the strollers they are currently marketing in the US are Asian made, including their big wheel models, London, Caddy, and Ponee. They are working on a carseat that will meet US standards. ANd will introduce it into the US as part of a travel system, with a redesigned 2002.

Next, The most astonishing strollers to be introduced to the US market since Mountain Buggy! The biggest dud! Who was the shining star; who's on the dark side of the moon. As "Adventures in Strollerland, Dazed and Bedazzled in Las Vegas" continues......

ADVENTURES IN STROLLERLAND, DAZED AND BEDAZZLED IN LAS VEGAS, Chapter 13, Part 2, 9/25/2003
"Shining Stars"

As many of you Loyal Subjects know, Strollerqueen has a bad habit of chasing down moms who are pushing groovy strollers. (She has now tried to always carry her Strollerprince or Princess when doing so, to alleviate suspicions of child-napping.)

But this is how it all began:

When the Strollerprincess was still a wee babe, I was driving down the street one day, and spied the most awesomely beautiful stroller ever. The design! The lines! The curves, the shape the style!

At first, I slowed down to get a better look, but the woman was walking rapidly. So I began "curb crawling", basically driving slowly alongside her, staring and staring. She started walking even faster, and her breathing was increasing as well. Finally I realized I was causing her way too much unnecessary anxiety, and screeched on the brakes. Stopped cold dead in the middle of the street, and flew out the door! (I did put the emergency blinkers on, though. Heck, if checking out a stroller like THAT isn't an emergency, what IS?)

Unfortunately, she spoke little English, and I speak NO French. But I did manage to convince her that I was only after her stroller, and not her baby. I also managed to get a name out of her--"BebeConfort."

I rushed home to tell my DH all about it. (TO give you an idea of just how long ago that was, he was still excited to hear about strollers, LOL!) Then I typed in the way I thought it would be spelled, and "Sacre Bleu!" (Sorry, I told you I couldn't speak French.) I found it!

Ever since then, I have perused their website often, longing for a stroller that was so far away. They are expensive to begin with, shipping would be astronomical, and language was a huge barrier. So I could only long and dream, until now.....

DUH DUH DUH DUH DUH DUH DUH!!!!!!!

"ADVENTURES IN STROLLERLAND, DAZED AND BEDAZZLED IN LAS VEGAS", Chapter 13, Part 2, "Shining Stars",

Is Pleased to be the first to Announce--

BEBECONFORTS WILL NOW BE SOLD IN THE U.S.!!!! YAYAYAYAYAYAYAYAYAYAY!

And this new and improved line merits my Strollerqueen Award # 5. *"The most Astonishing"*!!!!

Gotta' hand it to the French! If God is in the details, then he must be a Frog! LOL

These could be, could be, the strollers you have dreamed of in your wildest dreams. They have features you never even KNEW you needed, for example, a built in BRUSH to wipe of any bits of debris that may try and attack your beautiful stroller! A button strategically placed ON THE HANDLE, that fixes or locks the wheels. Can you BELIEVE it? No more need to bend down.

All of their French-made models feature their Modulo Clip system, which allows you to strap in the seat, bassinette, or car seat of your choice. The "Loola" is an free-standing umbrella stroller with a compact fold that, get THIS--allows you to FACE your baby! It has twisty handles, ala the Chicco 2002, that are also height adjustable.

Every model they showed me just got better and better. I was clapping my hands and jumping up and down and yelling so loud that everyone around stopped talking, and came running to see what all the commotion was about!

Then there is the Elite chassis, a chrome frame and chrome-spoked wheels with this art deco swoopy retro feel. This, along with their "Trophy" models, HAS A REAR FOOTBOARD FOR AN OLDER CHILD TO STAND ON! YES, YES! The footboard actually had two tiny little feet on it! God is in the details. The Trophy has bigger swivel A/T tires, then the Trophy Air 6 has bigger wheels still. Height adjustable handles and this extremely cool adjustable suspension. It's a side knob that SAYS "1, 2, 4." Huge, totally accessible basket when the seat is fully reclined. How much easier can you get?

You can choose your colors and accessories, and the fabrics are JUST GORGEOUS! Even their entry-level Asian made model was just delightful. It looks kind of like an Aria, but had this revolutionary twisty softgrip handle that actually makes it fold umbrella style! It has a central brake, rear suspension, is called the "Allegro". WHEW! How much better can life get???

The US distribution has come about due to the purchase of the company by Cosco/Dorel. They also purchased the groovy "Quinny", all of which are now made in Asia. The 3-wheeled Quinnys are available now. Unfortunately, it may be June before the BebeConforts are released.

And speaking of Asia, this one will knock your socks off. Or thongs, which was what I was wearing. Hey, the floor was concrete, and there was a LOT of walking to do!

The Strollerqueen award #6, for *"The Most Dramatically Improved Line"*, goes to Zooper! Phil, the president, said he had to take a deep breath and a leap of faith to do this-- HE REVAMPED THE ENTIRE LINE!!!!!!

And personally, I'm glad he did! It is BEAUTIFUL. First, the fabrics. They are divided into two categories--Winter and Summer. OK, this is my line, not his. But that's how I see it. The Summer line has this cute, crinkly, tie-dyed affect, in colors of tangerine, blue, and red.
The Winter line is this awesome, buttery soft, suede like fabric, in two tone colors. One is black and cream, one is dark blue and yellow, and one is teal and grey.

Now, onto the models. Gone are the Walk Air, Sport, heavy double, and ALL fixed wheel models. ALL GONE! But their replacements are SO much better. They have 3, yes THREE swivel wheel joggers, one of which weighs only 19 pounds--the "Jazz." The Jazz has Eva, no-pop tires, are you listening, Ms. Too Many Thorns Julie??

The EZ and Z St. now have these super soft finger grip foam handles. They now have an entry level 14 pounder that also looks like an Aria, the "Waltz". AND, there is, what you've all been waiting for....

A NEW, LIGHTWEIGHT DOUBLE! The "Tango" closely resembles the Aria Twin as well. But it does have more of a recline. It's a little on the wide side. Around 23 pounds. Raincover, bug net, and full boot comes with. Tango, Waltz, and Jazz are in the summer fabrics.

The EZ, Z St., Kroozer, and Buddy are in the winter fabrics. The Buddy still has the reversible seat, plus all accessories. The Kroozer has this incredible SUSPENSION on the seat. I mean, this sucker BOUNCES! You can also use the frame as a Snap-n-go for car seats. Phil says they should be available in January. I predict this line will be a HUGE hit!

Back to a Country of Origin--the Bebecar. This is SUCH a beautiful, hip, edgy line. Loved their "City Tracker." Huge, accessible basket, gorgeous fabric, and smaller wheels than her big brothers. So overlooked, and still only distributed in Canada. They were showing a prototype of the new model that is replacing the Unibig--the "X-Fold."

On to my favorite jogger--the Kool Stride. It now has this really "Kool" quick fold, no pins. I asked about the toddler add-on seat, the UGot2. The avuncular owner says, "Well, there's this real nice lady in Santa Monica, California, who wrote a real nice review on it. Let me see if I can find a copy..." "Um, no need,", I tell him, "I wrote it!" I said, "Why don't you design an add-on seat for your new model?" "OK, we will", he says.

Finally, no chapter on "Shining Stars" would be complete without mentioning our good old pal, the "Mountain Buggy". Hard to improve on perfection, but they did! Their new colors are orange (just darling!), Chocolate, (Good choice, Tam!) and Silver.

And--duh duh duh! What you've been waiting to hear--A new, lightweight MB! It is a re-engineered "Breeze". Basically a smaller, more compact Terrain. It now has a height adjustable handle, 10" fixed air tires, and weighs 14 pounds. SO CUTE! It holds an approved weight of 85 pounds.
But don't let that size fool you. The final sight of the Expo is indelibly etched in my mind. Alan, the US distributor, was running at break-neck speed down the aisles, pushing the Breeze, maniacally laughing. His passenger was a fully groomed, fully coiffed, fully suited, fully grown woman! Gene, the Kool Stride guy, is taking it all in. He turns slowly to me and says, in a Walter Cronkite drawl, "I've done that before, too." OK, maybe you had to be there.

Up next! Who tanked? Who did nothing? IS anyone else remaining in their country of origin--or have the rest gone to Asia?

Read all about it in "Adventures in Strollerland; Dazed and Bedazzled in Las Vegas!"

Adventures in Strollerland, Dazed and Bedazzled in Las Vegas! Chapter 13, Part 3

We were admiring the Inglesina line (heartbreakingly beautiful prams, btw, and a really nice double umbrella stroller).

Mr. Perego approached Mr. Tomasi, president of Inglesina. He pointed at the Swift, and began gesturing and speaking in Italian. Mr. Tomasi sheepishly grinned and shrugged his shoulders. As he responded, Alan turned to me and said "Do you speak Italian?" "No", I said, "But he is probably lambasting him for moving part of the line to China."

He was. Now this was a good-natured conversation between two business friends/rivals. And to be fair, the Swift is a nice little stroller. And most importantly, it is part of the major trend I saw with the 2004's.....

DUH DUH DUH DUH DUH DUH DUH!!!!!!!

"ADVENTURES IN STROLLERLAND, DAZED AND BEDAZZLED IN LAS VEGAS", Chapter 13, Part 3, "Leavin' Home"


And that trend is, leaving your country of origin. Now it makes me sad, but it is happening, and it is a dollars and sense reality. We have ONE manufacturer left in the US, Baby Jogger. And they are in bankruptcy. I can count the number of manufacturers here who have stayed home. So, love it or hate it, it's the way it is now.

Can I tell you about a stroller there, so beautiful it made me weep? Standing alone, under a spotlight, on a little stage? Every time I passed by it, I nearly fainted. I finally got up enough nerve to go and pet it. And went weak in the knees. And thus, the Strollerqueen Award # 7, *Most Beautiful*, goes to Silver Cross.

This Balmoral pram is handmade in England, with the best quality materials. It takes months. Attention is paid to the tiniest detail. It is exquisite, breathtaking. And it weighs 75 pounds. AND it costs $2,600!!!!!!!

Coming down from that stratosphere, you can see why the move to China had to be made. Most of us can only briefly exist in that rarefied air. So for the rest of us, who breathe in this atmosphere, there is the Mayfair Carriage. Now IT retails for $499. Yes, it is China-made. And no, it is not the same. The suspension is stiffer, the frame is brushed aluminum, the wheels are black. Although, as the new Prez pointed out, some people will prefer it. He said the aluminum chassis is 7 pounds lighter than the chrome. And I know I am totally in the "white wheel" preference minority.

It is still beautiful and elegant. As is their 3-wheeler, the Towne. It has the most lovely Burberry-like Ascot fabric, very unjogger-ish. Folds very compactly and flat. Retails for $299.

And perhaps the most exciting model--their new lightweight! The "Camden." It gets the Strollerqueen Award #8, *The most elegant every day stroller." By everyday, I mean one that you can easily fold and throw in the trunk, like a Pliko. And this is it. It has a one touch fold button, HUGE basket, child's snack tray, folds compactly and stands on it's own. Fully reclining seat and a single bar handle. Takes a carseat and has a matching boot.It also has that striking Ascot fabric, one of the few plaids available this year. The seat sits up really high, which is nice. And best of all, the wheels. NOT plastic-y at all, but a nice fat rubber. With the cutest little hubcaps that say "Silver Cross." Retails for $239, and still carries that unmistakable cachet.

On to Maclaren. Which of course, has been China-made since the latter part of 2001. Quality problems continue. I asked about them all. Whipped out your questions. Brakes breaking, wheels wobbling, canopies snapping, narrow seats, why they keep getting heavier...

Basically, the responses were, "Yes, we've heard that." When I asked about the canopy providing inadequate coverage, they suggested buying a Pepenny, or something like it. When I said that the canopy on MY Volo absolutely won't stay on, they said to send it in, and they'd take a look at it. "At MY expense?" I said. "Yes." "Grrrrrrrr", I said, shaking, my hands balled in fists, "Don't you see this is why people get so MAD at you? That you make them pay even more to ship off a brand new, obviously defective product?" "C'mon", Alan says, pulling me away. "Let's take a look at the new line."

Didn't see a lot of the stuff that was mentioned in the WSJ article; like the Kate Spades or Burberry. The colors are mostly solid, though brighter for 2004. The Triumph's racing stripe has been replaced by a windowpane design. The Vogue is gone, replaced by the "Ryder." It has a fake embossed leather, crocodile-looking seat in black or brown. Ergo foam handles, partial recline.

The Techno has been split into two lines, the "XT", and "Classic." Both feature two-tone fabrics. The XT has a sportier look. Colors are red, denim, grey, and indigo. The Classic has a more prammy look, or "nursery" look, as Mac calls it. Colors are black, brown, and navy.

Although the 2003 Global STILL hasn't come out, the 2004 has some improvements. Namely, a wider seat and higher padded bumper bar. In a steel blue and black. The Rally Twin also claims to have wider seats. But since I didn't measure them, or put in it, I can't confirm this. In navy and denim, with the windowpane design. The TT is two-tone black, brown, and navy. Oh, Mac 3 is a two-tone red, silver, or marigold.

Cool accessories include a drink holder/organizer, backpack, carrycot, and footmuff.

By the way, I never hooked up with the President here. He was gone all day the first day. The second day, I checked the booth 5 times, and he wasn't there. So I never spoke with him directly, only his assistants.

Speaking of non-existent presidents, Britax/Teutonia's is gone. I jokingly asked "So, what did y'all do with Tom? Depose him in a coup d'etat?" The response was a frozen stare. OK, maybe that one was in poor taste, but I had made other attempts to crack the ice. These people left their sense of humor behind in Germany, Poland, or some other frozen place.

I then dutifully whipped out your questions. Cindy, you are more blunt than me. Here goes, direct quotes of your Q's: "Why not just ADMIT there's something wrong with the Toni?" Answer: "There is NOTHING wrong with the Toni." C'MON, the BOMB of the year??? So I tried again, one of my own. "Have you done anything to clean up any of the quality problems that have plagued the initial roll-out?" Answer: "There is NOTHING wrong with the Toni." And it went downhill from here. Cindy's Q: "Why did you stop importing/making the PiXXel for the US? It's a great stroller that a lot of people are trying to find." Answer: "WE never imported the PiXXel into the US."

You also asked about patterns other than navy. Believe me, you wish they were still navy. The colors were so garish, and one so circus-y it hurt my eyes. WHile the Toni is China-made, most of the others are made in Poland. None are any longer made in Germany. Having owned and loved two other Teuts; these are not the same. You can have 'em. They are heavy and dinosaurish, and after seeing all the other beautiful choices out there, why even say any more...

On to Bugaboo. And since we're on the topic of Cindy's blunt questions, here's one that made them all gasp. "I love my Bugaboo, but why the high price tag since it's made in Taiwan?" Gasp. Silence. But to his credit, the owner said, "I can explain. Taiwan is just as expensive as Europe. They treat their workers much better than in China, and pay them a decent wage. My factory is open only during normal working hours. I have a Dutch management team on site at all times." "Um, then why not just stay in Holland?" "Because", he explained, "I can get parts much quicker there."

I asked him other things, about the harness, and a double, and he said they were looking into all of it. Then came the dreaded "Cupholder question." He responded: "Why are you going to risk pouring a scalding liquid on top of your baby's head? Why not just go sit down in a cafe, sip your coffee, and play with your baby? Enjoy all the time you can with them, they grow way too fast."

Then, another Cindy question. "For the price, how about including an air pump for the tires?" He whipped one out and showed it to me, with the Bugaboo logo. "I can do that!" He exclaimed.

New color is sand, and an even higher-priced denim, only sold in certain places.

Up next--Miss one of your favorites? Curious about what else is next? Trends, final notes, final thoughts? Read all about it, in "Adventures in Strollerland, Dazed and Bedazzled in Las Vegas!"

ADVENTURES IN STROLLERLAND! DAZED AND BEDAZZLED IN LAS VEGAS! Chapter 13, Part 4 --"Small Change, No Change, Spare Change."
"WAH" ! Says Miranda. "I wanna' go WIP YOU to the Stroller Show!" "But honey", I explain. "Security is tight, tight, tight. You have to get credentialed, and you have to wear a badge. "But I am the STROLLERPRINCESS!" She exclaims indignantly.

After disembarking the 'so steep and tall it induces vertigo' escalator, I approach the Grand and guarded Hall. Once the good Knight at the door bids me entrance, I hear a shout to the right, "OMG, it's STROLLERQUEEN!" And to the left, the Prez of Inglesina is making a sweeping bow--"Good morning, your Majesty."

Yes, it IS a mythical Kingdom, and more I have to share with you, in:

DUH DUH DUH DUH DUH DUH DUH!!!!!!!

"ADVENTURES IN STROLLERLAND! DAZED AND BEDAZZLED IN LAS VEGAS!"
Chapter 13, Part 4 --"Small Change, No Change, Spare Change."

Tucked in the back is the Graco Suite. Since one of the only rulers with their own private room is Perego, this give one an idea of their standing in this land.

Well for you, Rachel, I checked out the Quattro. The fabric is really cute, you would like it. A black gingham with a black toile design of little cupids. (Though wasn't that last year that toile was all the rage? Or the year before?)

Well, our eager to please guide was showing all the new and improved features of this flagship model. "But what have you done to improve quality and durability?" I ask. "Um, what do you mean?" He says. "I mean, the fabric is lovely, but what about the wheels that squeak within a week or two? The frames that bend in a month or two? Folds that won't fold, locks that won't lock, wheels that fall off, canopies that fade, etc. And why this ugly plastic thing hanging on the handle? Get rid of that, it's overkill." "Well," he replied, "We are constantly trying to improve our models to please the consumer, and we are always working to better our quality." If you say so.

On to the doll of the show--Teri Durin of Dreamer Design. Yet another "OMG, STROLLERQUEEN, I HEARD you were here!" Definitely the most fully loaded of all the jogging strollers out there--bubble canopy, mesh roll-up sides, huge recessed footplate, improved harness, heavy duty suspension, aluminum frames, reflective trim, raincover, 20" wheel option. WHEW! She's in Yakima, WA, and more than happy to help with any questions.

Kidco--God bless 'em, they're trying. Carole Childs said most of their models had "Gone on a diet, and shed a few pounds", lol! The height adjustable handles are super tall, And when I asked about the 50-pound weight limit, she said they are, in fact, tested to hold that limit. I still think the seats look a little small, but I didn't measure.

Phil and Ted's Most Excellent Buggy Company--While most of the reps were in suits and ties, Paul Yarrall was in a t-shirt, shorts, and sandals. But no worries, mate, he is a Kiwi, after all. He demonstrated in depth the latest model, the E3. Very sharp looking. He said it was less tippy, and less fiddly than the old Kiwi Explorer. I asked about a canopy for the add-on seat, and he said they recommend the full sun shade accessory. Has a newly redesigned backpack and bottle holder, and of course, the pannier bags.
As we walked up to Bertini, my gaze fell upon this MASSIVE twin pram. "Wow," I said. "Now THAT'S the Hummer of the Stroller world." "As a matter of fact," the rep said, Hummer HAS approached us about licensing their name" LOL! Bertinis are all made in Asia now. That four wheel drive still confuses me, so slithery. I guess it's an acquired taste.

No big stroller changes planned for Combi, most of their efforts are focused on car seats. Mike said the mesh seats on the Soho have been very popular. Due to all my past problems with Combi, I was on best behavior here. Interesting note: The former Japanese Combis are all made in China now, too. Japan is just too expensive. Mike gave me an interesting lesson on just how expensive R & D can be, think millions. And just how damaging knock-offs can be (no big capital investment on their part; ergo a knock-off can be so much cheaper.)

Speaking of knock-offs, I had fun over at Baby Trend. While many of you have been delighted with the Mac knock-offs, the president of Mac himself apparently was not. "You copied my stroller!" he allegedly said, allegedly pointing his finger at the nice lady at the booth. And a few more choice words. "So call the office and complain" she shrugged. They also had a pretty nice double umbrella stroller. But it was too wide and too heavy, so not many retailers were jumping up and down about it.

And more knock-off news, Jeep/Kolcraft has introduced their version of music to stroll by. Big built-in speakers on the Jeep's tray, with room for a compact DVD. Really easy to use. The rest of the 3-wheeler looked the same.

Of course, there was more to see, and more to play with, but alas, the lights have dimmed. So now I must say farewell to this land of stroller wishes and dreams, one which I had hoped to visit for many years, and must give my humblest thanks to Alan Fields for allowing me the privilege to do so.

I also wish to thank all of you, my loyal subjects, for entrusting me with all your stroller questions. I did my best to present them to all the rulers of this land, and I hope I provided most of the answers you were seeking.

As for the stroller princess? Ah yes, as the lights had dimmed, the kind and gracious knight allowed her a quick "stroll" through the Hall. (The Stroller Prince's access was denied, however.) Her reaction? "Look, Mommy, WE have that! Oh, and look, we have that one, too! And that! And........."
But fret not, Loyal Subjects. There will be more to come, in days to come. Anything I learn of that is new, anything I think of that I forgot. We thank you from the bottom of our Royal Heart,

Strollerqueen