Silver Cross
The return of Silver Cross to the US heralds an entirely new line-up, well, almost. There is the Sleep-over, which is basically your classic pram; the Linear Freeway, a smaller, swivel-wheeled pram; the 3-D, an umbrella fold pram, the Micro V2, similar to the Micro that was here before; the Pop, a forward-facing umbrella fold, and the S-4, Silver Cross' answer to a jogger. I am showing it here with the pistachio footmuff, which is hands down THE cosiest cosey toes I have ever seen!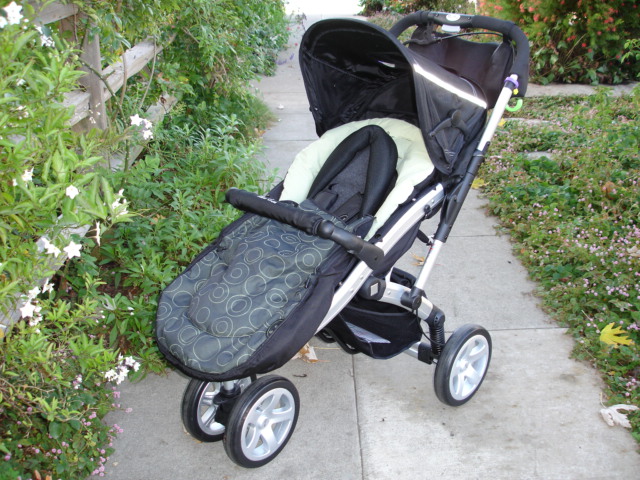 Not only that, but it comes with an additional "apron", shown here in black, and a raincover. Stand-out features include the canopy that pulls down to the napper bar, shocks on the wheels, (which are NOT air, so no flats and no pumping), and incredible steering, a serious two-fingered push. It glides over big cracks and bumps, and performs as well as any tir tires.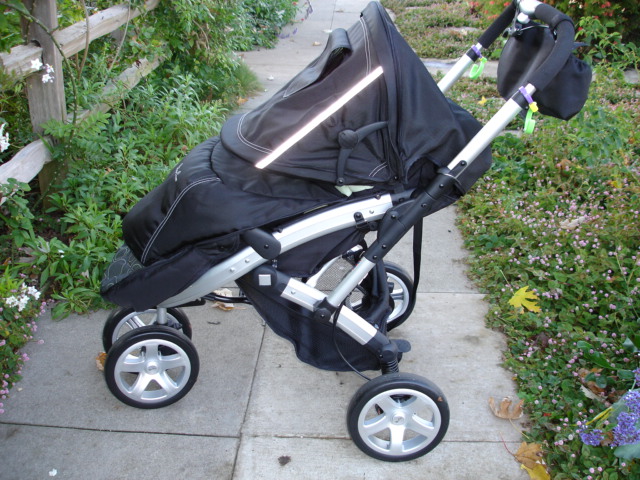 The recline is completely flat, and makes a very plush, warm bed for baby. A fleece-lined headhugger and strap covers come with. You can unzip the top of the footmuff, and just use the bottom, fleecy part as a liner. The recline is kind of different, you push in a silver button on the side to lie it flat, and pull up on a side strap on the right to sit it up straight.
There is a handbrake on the handle, which extends upward by pushing in the center button, and a peek-a-boo window in the canopy. This is definitely a full-featured buggy, weighing in at 29 pounds.
It folds by pushing up two side levers, pushing the handle forward, and tucking the wheels underneath.
Other measurements are as follows:
Seat to canopy--21.5", seatback--17.5", seat depth--9", drop to footrest--8", seat width--14.5", overall width--24", overall length--32".
POP
This is Silver Cross' lightweight umbrella, for "popping in" and "popping out." It comes with a raincover, and I am showing it with an optional black footmuff, just because I LOVE these footmuffs so much!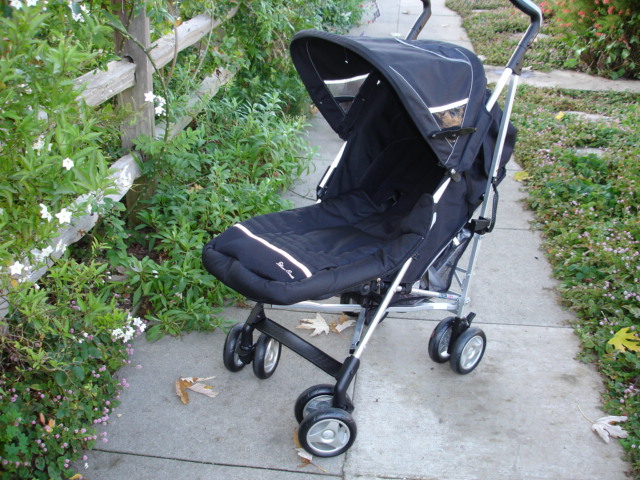 Here it is without the footmuff, and with the legrest extended.
It has reflective piping, white stitching, and a back canopy pocket. It reclines fairly deeply with a backstrap, weighs 14.5 pounds, and is very stable--not tippy.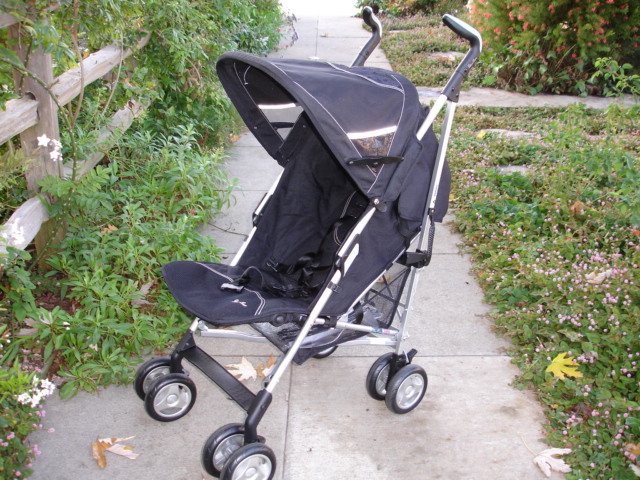 More measurements
:

Seat to canopy--25", seatback--18.5", seat depth--9" without the footest extended, 16" with the footrest extended; drop to footrest--9.5", seat width--13"; overall width--19.5", overall length--24".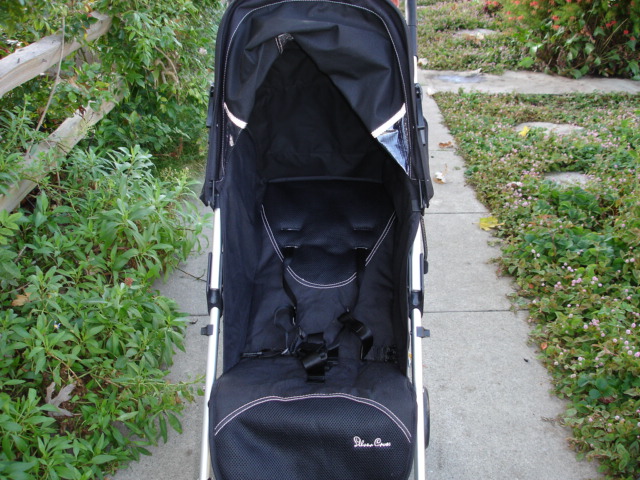 It folds umbrella style, by kicking up the back side lever, then stepping down in the center. Then it self locks, with latches on both sides.
If you need help finding the best stroller for you, click on "Consultations" up top. And to see all of the 2014 stroller models, go to StrollerQueen.Net