Peg Perego P3 compared to Chicco CT 01
I'm comparing the
Chicco CT O1 to the P3, because they are quite similar. Most of us are quite familiar with the P3 (if you aren't, I've reviewed it several times on this site.) And because the Chicco, while wildly popular in Europe, is nowhere near as well-know here. It has all the features of the P3 that we've come to know and love, including the snack tray, cupholder, full canopy, rear footboard for an older child to ride on, and an umbrella fold.
You fold it basically the same way, by pulling up the handle triggers, and yanking the back loop. Both stand on their own when folded.Overall, it is a slightly larger and heavier stroller, (weighs 2 pounds more than the P3), with bigger wheels, and a flatter recline, which makes it better for newborns. And Chicco's "KeyFit" infant seat snaps right in. But it also has a lower footrest than the P3, which gives
longer-legged children more room.
The CT 01 has some other extremely unique features. The Chicco (that's "Key-koe", by the way) has rotating handles, which makes it very easy to steer one-handed. Not quite as good as a Mac, but almost! And the handles fold on top of themselves for

easier storage.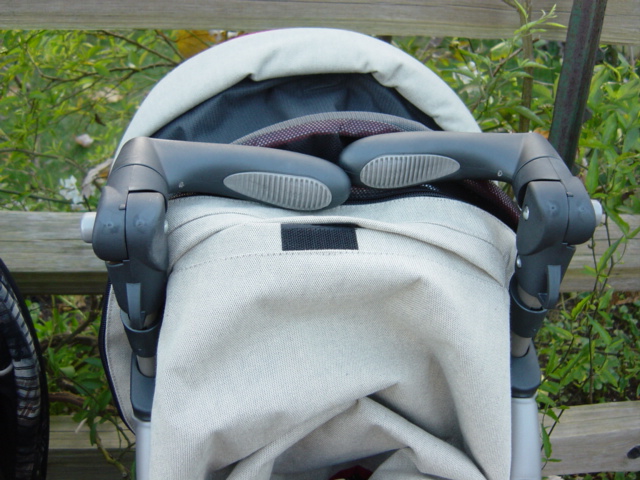 It has an adjustable suspension, down by the wheels, which makes it the bounciest umbrella stroller ever. It glides over sidewalk cracks. It comes with a rain cover that is very easy to attach, but best of all, it has a "portaombrelli", or umbrella holder, lol! Love this gadget! The Chicco C1 is tough to find, but well worth the effort.
If you need help finding the best stroller for you, click on "Consultations" up top. And to see all of the 2013 stroller models, go to StrollerQueen.Net